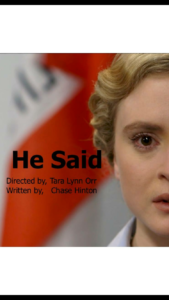 HE SAID
A chance encounter changes the lives of two unsuspecting young people…forever.
HE SAID is the latest film by avenueROAD films to hit the festival circuit.
The film was written by Chase Hinton and directed by Tara Lynn Orr.
The cast includes: Emily Goss, Chase Hinton, Philippe Brenninkmeyer, Sara Botsford, Michael Gross, Anna Khaja, and Kyle Colerider-Krugh.
We are thrilled to bring this timely story to life. Dealing with the issue of consent, we felt that HE SAID is a story which needs to be told.